What are the types of plastic auto pipe fasteners?
Many different types of plastic fasteners are used in the automotive industry. Interior trim fasteners are nearly always plastic, as they enhance the interior of the vehicle. Bumper spacers are also made out of plastic. Plastic tube clips and electrical fasteners can keep things tidy under the hood.
Things get a little more complicated when it comes to fastening metal. Studs can be made out of plastic, and they can be used in the engine. Screws can also be made out of plastic. Some fasteners are even specially made just for the auto industry.
Plastic fasteners are more versatile than ever and they can provide a wide range of benefits in the automotive industry and beyond. You just have to take the time to make sure you choose the right automotive plastic fasteners for the job.
Why plastic fasteners are a good choice for the auto industry?
Just as special fasteners have been made to fasten plastic materials together, special plastic fasteners have also been made for a wide range of applications, including those that involve the auto industry.
A lot is going on under the hood of your car. From oil and fluids to heat and humidity. The environment under the hood of your vehicle is harsh. Because dependability and safety are so important to a vehicle, metal materials and fasteners have been the norm. The trouble is, metal products have problems of their own. They are prone to corrosion that can compromise the safety, and dependability of a vehicle. Plus they are a little heavier. A few ounces here and there can add up to many pounds of weight savings.
Plastic fasteners are gaining in popularity in the auto industry because they are chemical and acid resistant, non-conductive, and have a much higher tolerance for exposure to water and humidity. By using plastic fasteners, you can reduce maintenance issues and the need for repairs.
Just as strong as metal
The trouble is, that plastics are not known for being strong. Even with their other properties. They weren't a good choice for the auto industry in the past. That's not the case today.
Some plastic fasteners are just as strong and durable as metal fasteners. You just have to be smart about the plastic materials you choose.
A fastening solution for any assembly situation
Our standard product families address an extremely wide range of fastening solutions for use in virtually any assembly environment. Our robust clip fasteners are designed to ensure ease-of-use and fast, high-quality assembly to reduce costs on the production line. Plus, our standard parts guarantee easy ordering and inventory management.

CNMOULDING  offers a comprehensive range of fasteners to manage all tubes and cables (continuous tubes, bundles of tubes or cables, corrugated hoses, and more). Our fasteners are compatible with all common mounting strategies and are available with round, oval, oblong, square fasteners, blind holes, stud, edge, and screw fasteners.
They are available in several designs for a wide range of tube and wire diameters and panel thicknesses and can manage multi-housings. Swivel components for multidirectional mounting increase flexibility on the assembly line. And plastic components can be combined with spring steel clips for improved performance and retention.
 The Cable and tube fasteners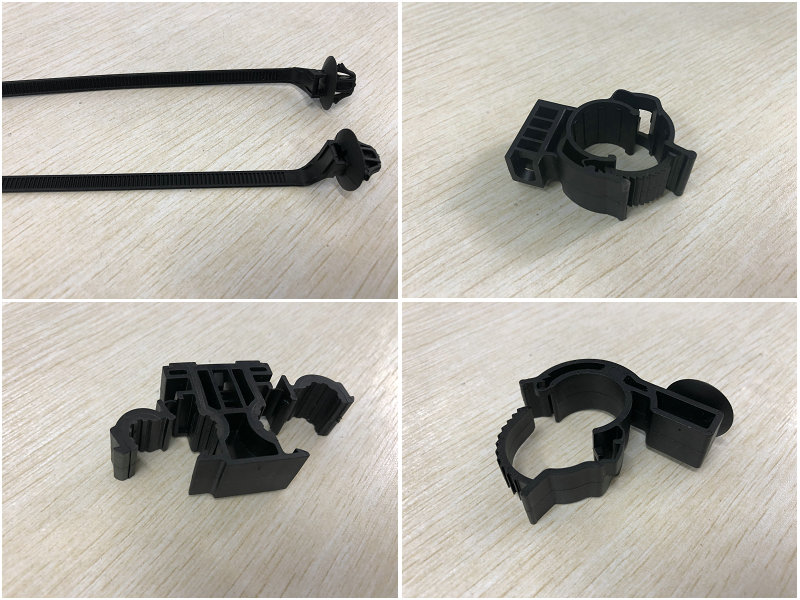 Cable straps
Our lightweight straps are designed with features like bi-injected seals for water tightness, and swivel components to allow multidirectional mounting. And removable and/or double cable ties that can hold more than one bundle.
Tube holders and cable clips
Choose from a broad range of options: live hinges, locking, adjustable lids, and bi-injected materials to absorb vibrations and reduce noise. And metal parts for high-temperature environments.
Tape-on clips
Our tape-on clips offer a simple way to secure wire harnesses. Our metal tape-on clips are made of spring steel for lightweight, yet robust performance and are suitable for the engine bay, and other high-temperature or harsh environments.
Spacers
Spacers are used to manage complex wiring configurations and prevent metal pipes from coming into contact with fuel. And brake lines on the vehicle's underbody.
Panel and trim fasteners
Edge panel clips
Our multi-functional edge clips can be used to join metal-to-metal or metal-to-plastic panels or profiles. Manual mounting is fast and easy and requires no drilling, screwing, or welding. Integrated barbs provide a tight grip and a secure assembly. Upturned lead lips ease assembly over the panel edge. Different designs are available to suit virtually any assembly environment.
Snap clips
This snap-fit design assembles parts in just seconds without tools or screws. Once mounted, the fasteners are invisible, giving exposed panels a clean, finished appearance.
The fasteners are easy to service, making them ideal for interior trim, IPCC, and pillar applications.
Double-headed clips
Double-headed clips are used to adjust the distance between two panels and are available with a seal for water tightness.
Push-rivets
Push-rivets provide easy manual assembly and high serviceability without compromising retention. Simply push through or turn the screw to lock and the expansion leg provides a secure joint.