PVC pipe fitting mold
PVC pipe fitting mold is a type of mold used to produce PVC (polyvinyl chloride) pipe fittings. These fittings are used in a variety of applications, including plumbing, irrigation, and industrial piping systems.
The PVC pipe fitting mold is typically made from steel or aluminum and consists of two halves, the core and the cavity. The core is the internal part of the mold that shapes the inside of the pipe fitting, while the cavity shapes the outside. When the two halves of the mold are pressed together, molten PVC is injected into the mold cavity under high pressure, filling the space and taking the shape of the mold.
After the PVC has cooled and solidified, the mold is opened, and the finished pipe fitting is ejected. The mold is then cleaned and prepared for the next cycle. The process is repeated many times to produce a large number of identical pipe fittings.
PVC pipe fitting molds come in a variety of sizes and shapes, depending on the specific type of fitting being produced. Some common types of PVC pipe fittings include couplings, elbows, tees, and reducers. Each type of fitting requires a specific mold design to ensure accurate and consistent production.
The basic feature of PVC pipe:
1. Excellent surface hardness and tensile strength of the pipe, high pipeline safety factor.
2. Good anti-aging, the normal service life of more than 50 years.
3. The pipeline has excellent corrosion resistance to inorganic acid, alkali, and salt. And is suitable for industrial sewage discharge and transportation.
4. The small friction coefficient of the pipeline, smooth water flow, not easy to block, less maintenance work.
5. Material has a high oxygen index and self-extinguishing.
6. The expansion coefficient of the pipeline line is small (0.07mm/℃). And the deformation is small under the influence of temperature.
7. The connection of pipes and fittings can be bonded, with the simple construction method, convenient operation, and high installation efficiency.
8. Good water tightness: the installation of PVC-u pipe has good water tightness no matter it is glued or connected by a rubber ring.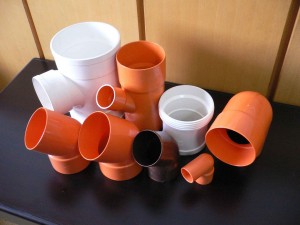 As a professional PVC pipe fitting company, we have an advantage as following:
1.Good steel with high hardness.
2.Good accessories with high brightness.
3.Good machining with high precision.
4.In-time response on email, telephone calls.
5.In-time supply the quotation injection moulding company and mould designs.
6.In-time communication on the technical points.
7.In-time sending pictures for the mold machining progress and mould finishing schedule.
8.In-time mold test and sample delivery.
9.In-time mould delivery.