How to customize plastic products
First, let's define what customize plastic products are? During the injection molding process, plastic pellets—rigid when cool but viscous at higher temperatures—are heated to their melting point and then injected into a cavity. As they cool, they harden in that cavity's shape.
Plastic machining, however, is the process of whittling plastic down from a larger shape, like shaving slivers from a branch with a knife.
How do they stack up?
Plastic machining can cost as much as 25 times plastic molding. Yet, sometimes it is cheaper to machine plastic parts. How can this be?
The reason is the cost of creating the initial mold in which the parts are manufactured. Its price ranges anywhere from $5,000 to $200,000, depending on the complexity. Molding plastic may be a less expensive process, but if you only need a few parts—and you spend $10,000 to make the initial mold to create them—you spend more than if you had just machined those parts.
And keep this in mind: once you customize plastic products or mold, you cannot easily change it. Wholesale changes cannot be made.
Typically, when you need a few hundred or fewer parts, machining is the answer. At these levels. The cost of creating the mold almost always outweighs the expense of machining. When you're dealing with larger orders, molding is likely the answer.
There are, however a few exceptions.
As a process, plastic machining is more precise than plastic molding. When molding, you can expect results within .005 inches of specifications. plastic machining,When machining, you can bank on results within .001 inches of specifications. This level of precision is necessary for some industries and projects.
Another exception arises if your parts require uniform surface smoothness. The process of transferring plastic into a mold leaves behind surface imperfections on the finished product. During injection molding, plastic flows through runners and is introduced into a cavity through a gate which meters the flow as it fills the part.
As a result, when the finished parts are removed from the mold, the gates leave a slight cosmetic imperfection. In addition, most molds use knockout pins to push the part out of the cavity after it cools. These knockout pins leave a slight depression in the place where they contact the part.
If your plastic parts must be blemish-free, strongly consider plastic machining. Also, another benefit of plastic machining is its faster turnaround time, which may be important if your project is behind schedule. So, if you or your company is choosing between plastic molding and machining, we hope you'll keep the following in mind. If you require a couple hundred or fewer parts, the best choice is very likely plastic machining. If you are considering molding, make sure to weigh the cost of creating the initial mold against the higher expense of machining. Give machining serious thought.
(1) Your project requires a high degree of precision
(2) Your parts must have uniform surface smoothness.
Customize plastic products-Plastic Product Design and 3D Printing Services
At Rex Plastics, we are proficient in the field of engineering, rapid prototyping services. With competencies stretching from state-of-the-art 3D Printing Services to short and long run plastics molding, we are able to answer all of your injection mold and part design needs in a fully CAD-enabled environment. We invite our customers to take advantage of our full-scale production abilities, which come offered with rebates up to $500.00 on engineering and prototyping services.
Our prior experience in advanced fields such as communications, electrical, military, and consumer goods ensures that we have the know-how needed to add value to your project priorities, including plastic product design and 3D Printing Services.
We are able to provide form studies, function prototypes, scale models, visual prototypes, and CAD models, all converting to short or long-run production. Prototype materials we work with include a wide variety of hardness and clarity, and we are able to offer full color and over-molding 3D printing services as well. We support traditional means of manufacturing like injection molding and manual machining, but also provide CNC machining. Manufacturing tolerances can be as precise as ±0.001".
We have a great deal of experience in engineering and rapid prototyping services which includes a wide variety of product types, from small parts such as gears, forms, blanks, fasteners, to larger mass-produced products like electronic housings, medical devices, and toys. Our design engineers manage product development from end to end, including design, engineering consultation, and inspection phases.
Before You Start an Injection Moulding Project-customize plastic products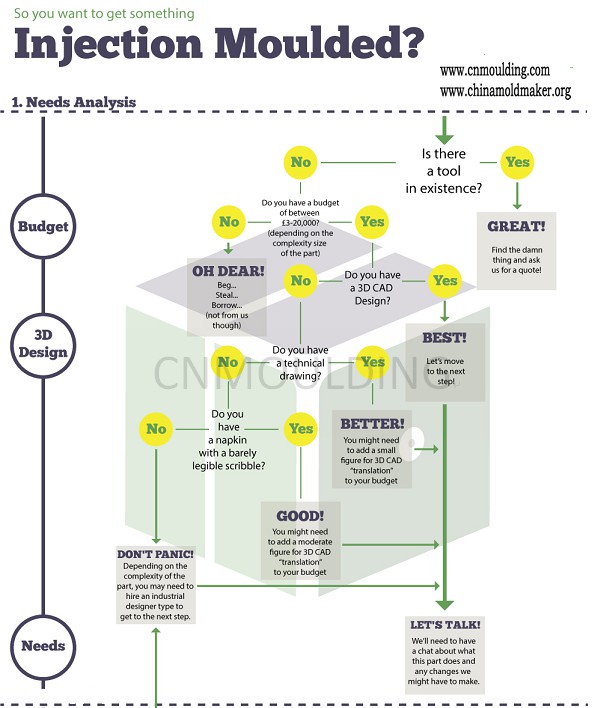 If you're thinking about getting something injection molded, there is one overriding pair of factors that most beginners aren't necessarily aware of that has a huge impact on the whole process and life cycle of the product.
Mold tools = high cost
(Please be aware that the "high cost/low cost" are only relative statements geared towards people who haven't experience in the industry.)
Normally this is quite a shock to most people who haven't been involved with the industry before. But this is the fact of the matter. Injection mould tools aren't cheap. If you're going to be making more than 1000 parts/year for some years. A 1-16 impression mould tool will cost you something in the region of between £3-20,000 to make. And take anything between 5-12 weeks to be made, from the finalization of the design.
This is the most common barrier to entry to the market. You'll need a budget! That is a budget for the design of the part, tool, and following that, the production of the tooling.
After you have paid for the tooling to be made, the cost of the parts is relatively inexpensive – depending on materials, sizes, cycle times, impressions/mould, etc.
Injection molding production = low cost
This is the most significant factor for almost all people starting with a part idea. High upfront costs mean that at the very least you'll need some capital to start the project – and furthermore: sales must be guaranteed or at least assured. How you do that is not our business!
The first point is the size of the crane to the MAX mould weight your largest press can support. You'll end up with that one mould that will be set in halves if you don't. Tie bar pullers for large machines. Standardize EVERYTHING! Water, power, valve gates, cores, air blow-offs, weight blenders, mould mounting, and ejection. I also recommend magnetic mould clamping. Think of material flow around the plant (raw material in and finished goods out the door), and machines (pallets, totes, boxes, racks). Consider keeping the smaller injection molding machines in the more landlocked areas as a pallet can carry many different parts away but some 1000-2000t parts may only be 8 to a rack! Data collection from the machines. Central drying and resin feeding.